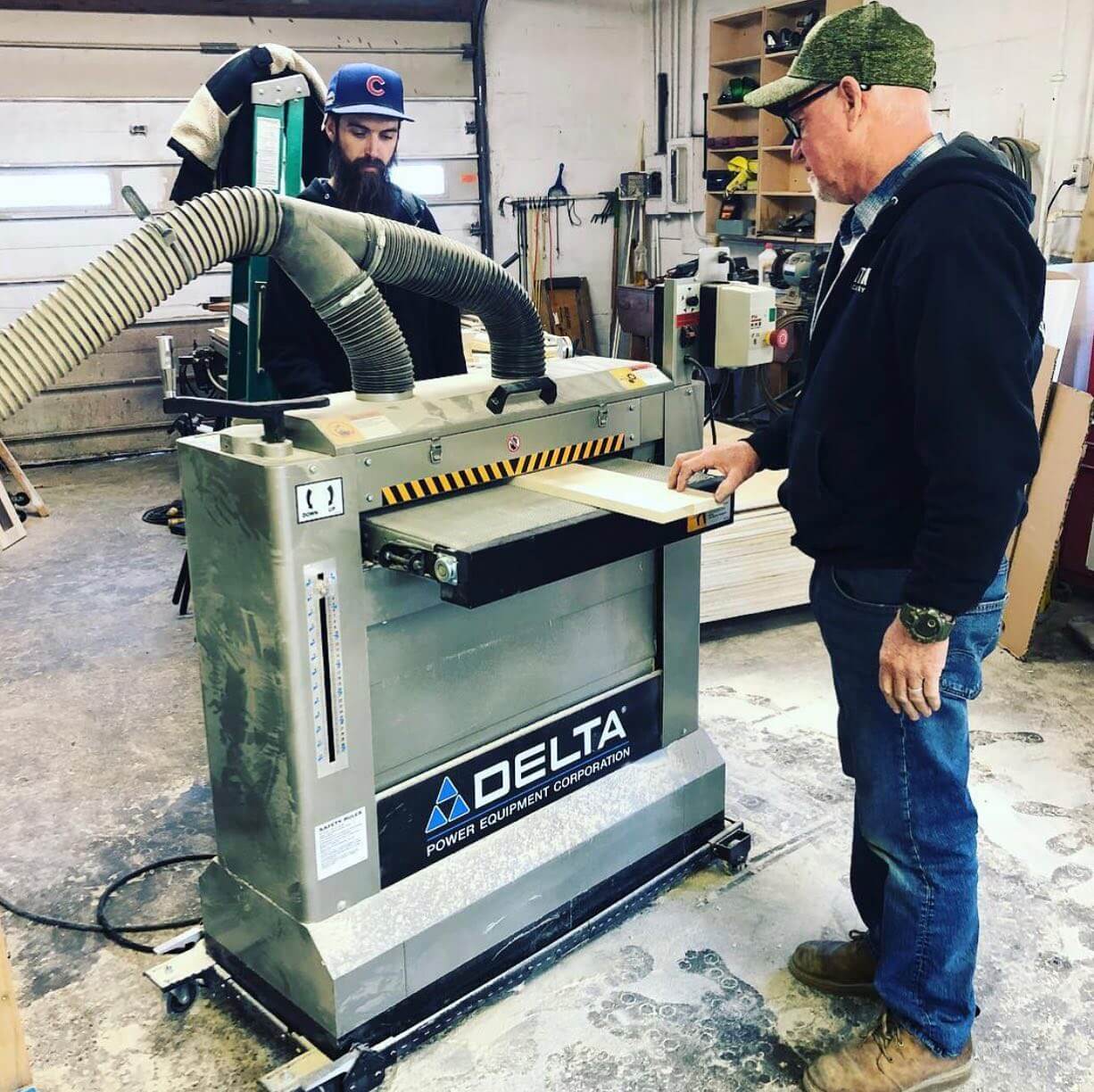 About Us
We're a father-and-son custom cabinetry business serving the greater Grand Rapids, Michigan area.
Our passion is providing quality carpentry and design services with meticulous craftsmanship.
Our story starts back in 1986 when we first began to design and build custom homes. Since then we've focused on crafting interior woodwork throughout the Greater Grand Rapids, Michigan area. We design and build custom cabinets and vanities, cabinet doors, dovetail drawers, furniture pieces, custom closet solutions, and much more.
Working with only quality materials, we're proud of our meticulous craftsmanship and quick turnaround. Our tailor-made cabinetry and woodworking is designed for exactly what you need with the style and finishes that you want. From cabinet doors to full kitchen remodels, we can help take your project from start to finish. Whether you're a builder, designer, or homeowner-we'd love to help with your next project.
We look forward to working with you!
Explore Our Recent Work
Custom Cabinetry

We build real, solid hardwood cabinets, doors, and drawers designed and crafted to your specifications. We begin by listening to you to understand what your needs, style, and budget are. We can then help you achieve exactly what you want while getting the best use of your space. Our cabinetry is built with expert craftsmanship ensuring a beautiful product for years to come.

Custom Woodworking

From bookshelves to built-ins, kitchen remodels to closet solutions – we love finishing spaces and providing just the right polished touch. Looking for a new coffee table or end tables? We build those. Want to update your kitchen or bathroom? We can help with that, too! No matter what style or form, let us help you design and create the space you've been dreaming of.

Design

We love design. And we love bringing design to life. Whether you're a builder, designer or homeowner, we build to suit any size or function and can help to create the perfect custom solution for your space.

Are you only looking for a rendering? We can help with that, too! We create floor plans and 3-D renderings for a variety of projects.
What We Create
Banisters & Railings

Barn Doors

Bathroom Vanities

Benches & Lockers

Bookshelves

Buffets

Built-ins

Custom Cabinetry

Closet & Pantry Solutions

Fireplace Mantels & Surrounds

Custom Furniture

Garage Storage

Home Offices

Kitchen Cabinetry

Laundry Storage

Media Centers

Mudroom Storage

Reception Desks

Shelving

Tables & Benches

Wet & Dry Bars

Window Seating

...and more!
Our Process
Request a FREE Estimate

Let us know how we can help with your next project! Request a free estimate here.

In order to provide you with a free estimate we will ask for pictures and measurements of your current space, as well as any images that you have for inspiration. The more detail you can provide the more accurate the estimate. Once you receive your estimate it is valid for 60 days. If you wish to proceed with your project and move into the design phase, we will need:

Signed copy of estimate
$250 design fee

Signing an estimate is not a contract authorizing us to build your project. You are agreeing to pay us to design your project, including a floor plan. The $250 design fee also secures your place in line, as we work on a first-come, first-serve basis. This design fee is deducted from your bill when you use our services to build your project. Should you choose another vendor, the drawings are yours for use.
Design

Once the estimate is signed and design fee received, we will schedule a consultation to meet with you and field measure your space (if needed), reviewing all of the details for your project — from floor to ceiling. We then create 3-D rendering, review any changes and finalize drawings. Included in your design fee are 2 revisions. Additional revisions are available for a nominal, non-refundable fee. Once drawings are finalized we provide a final proposal. To move into the construction phase, we need:

Signed copy of proposal
Deposit (50% of final project cost)

Once we receive a signed proposal and deposit, we review current lead-times (ranges from 4  –  12 weeks depending on the number and size of current projects in progress) to determine proposed dates for delivery and installation.
Construction

Once your deposit is received, materials are ordered and production begins. We will coordinate any subcontractors and installations as needed, such as electrical, drywall, flooring, plumbing, tile and counter tops. These subcontractors may be working in your home while your project is being built in our wood shop.

For kitchen and bathroom remodels, we suggest having an alternate sink or bathroom to use during construction.
Delivery & Installation

A few weeks prior to your cabinetry being completed, we will contact you to verify delivery and installation dates. Installation can take anywhere from a few hours to multiple days, depending on size and complexity of project. Project Payments:

40% of payment due upon delivery
10% of payment due upon completion

For full remodel projects, progressive payments as needed. Please refer to your signed proposal for payment details.